Writer
| | |
| --- | --- |
| Region: | Maryland/Delaware/West Virginia |
| Age Levels: | 5-10, 11-13, and 14-17 |
| Will Travel: | Anywhere in the world |
| Skype Visit: | Yes |
| SCBWI Profile: | Member Profile |
| Speaker Email: | vbartleswrites@vbartles.com |
| | Publications |
---
Bio: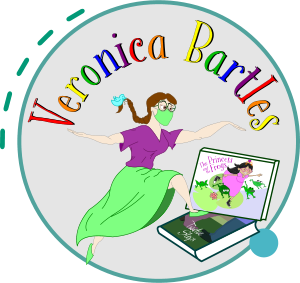 Veronica Bartles, author of TWELVE STEPS (YA), and THE PRINCESS AND THE FROGS (PB), loves to ask "What If?"--the magical question that makes almost anything possible. When not writing or reading, she likes to invent new cookie recipes and knit things from recycled plastic bags. She's an incurable optimist who loves gray, drizzly days because that's when rainbows come out to play.
(Find out more about her at http://vbartles.com or connect on TikTok, Twitter or Instagram: @vbartles)
Presentation Description:

I offer presentations geared toward small groups (a single classroom), large groups (assemblies for whole grades or even whole schools at a time), and even geared specifically at writers. You can find out more about the presentations I offer on my Events Page, or I would be happy to work with you to create a presentation best suited for your needs.
I also offer on-demand workshops, if you would like to work at your own pace: (free preview videos available on my events page:
https://vbartles.com/events.htm
)
---
How to Fracture a Fairy Tale:
Can be presented as a small-group writing workshop, or a large-group presentation. We will talk about what a "fractured fairy tale" is, and then work together to fracture a fairy tale of our own!
---
Don't Ever Give Up! How a Series of Failures Led to my Biggest Success:
Presentation plus Q&A for large or small group settings. A look at the "failures" and bumps along the path to publication made me a stronger writer, how my first two published books were both inspired by one manuscript that didn't sell, and why giving up was never an option.
Video of Presentation:http://vbartles.com/images/events/PowhatanHS_Author_Illustrator-Visit.mp4